#bookreview #5thwave @RickYancey #booktomovie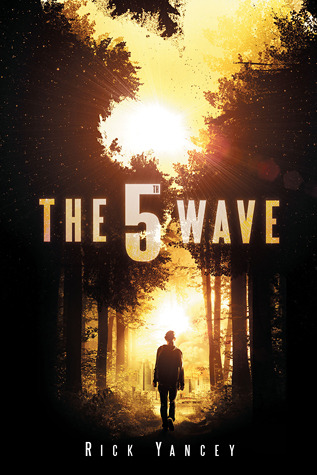 The 5th Wave
by Rick Yancey
Pages: 457
Publisher:
G.P. Putnam's Sons Books for Young Readers
Source: Public Library via Overdrive
Format: ePub
Rating: ☆ ☆ ☆
Summary:
After the 1st wave, only darkness remains. After the 2nd, only the lucky escape. And after the 3rd, only the unlucky survive. After the 4th wave, only one rule applies: trust no one.
Now, it's the dawn of the 5th wave, and on a lonely stretch of highway, Cassie runs from Them. The beings who only look human, who roam the countryside killing anyone they see. Who have scattered Earth's last survivors. To stay alone is to stay alive, Cassie believes, until she meets Evan Walker. Beguiling and mysterious, Evan Walker may be Cassie's only hope for rescuing her brother--or even saving herself. But Cassie must choose: between trust and despair, between defiance and surrender, between life and death. To give up or to get up.
Purchase
My Review
This book took me forever to finish. I just couldn't get into it. We all know that the movie adaptation is coming out on the 22nd. If I go just from what I've seen on the commercial, did it look like they changed some things which is expected though how hard is it really to stick to the damn book!

Cassie is alone. Her parents are dead and he brother is gone. I never felt like it let me in on what her life before the Arrival was like though. People keep saying that her brother was taken. No he wasn't. His father made him go. He was being deceived, yes but at the end of the day, he convinced him and Cassie to get on that he had to get on the bus.

Once you get to the point where other character beginning talking the pace picks up a bit. The characters are okay but I never made a connection with any of them. The plot is an interesting one if you think about it. It's an alien invasion that really isn't an invasion because they've been here for years. The storyline is there but the characters just wasn't that interesting to me.

I just realize what it is that bothered me about this book. When things happened we were told about it but it wasn't explored enough for me to experience any of the events that went down in the book. There was so much that had to go on in the book that no one thing could be lingered on.

It is an okay book. I do wonder what will happen next. It's just that I'm not running off to read the next book right away. I'm pretty sure that the movie will be one of those rare times when I like the movie better.

Of note:
"If aliens visit us, the outcome would be much as when Columbus landed in America, which didn't turn out well for the Native Americans," Stephen Hawking

Cassie for Cassiopiea - will that become significant in the second book?
About the Author
Rick is the author of fifteen novels and a memoir. His books have been published in over thirty languages and have earned numerous accolades and awards from around the world. His young adult novel, The Extraordinary Adventures of Alfred Kropp, was named a "Best Book of the Year" by Publishers Weekly and was nominated for the Carnegie Medal. In 2010, Rick received a Michael L. Printz Honor for The Monstrumologist. The sequel, The Curse of the Wendigo, was a finalist for the Los Angeles Times Book Prize. His latest novel, The 5th Wave, the first in an epic sci-fi trilogy, made its worldwide debut in 2013, and will soon be a major motion picture for GK Films and Sony Pictures.
Author Links
Facebook - Twitter - Website - Tumblr - Goodreads - Youtube - Google+
Challenges
15/6 books
8/9 books
0/5 books
Get Social
**This blog may use cookies to enhance your experience. Also clicking links may take you to a third party website that may use cookies. Most browsers have an option in the right hand corner setting icon to disable the use of cookies.